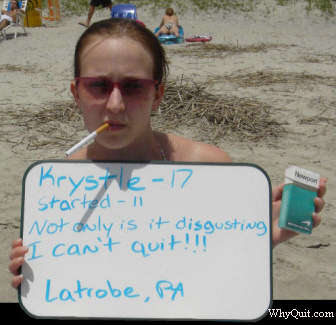 You want to quit smoking but can't.

You've tried all sorts of things. You've even been to the website WhyQuit.com and read their wealth of information - which, I may add, is quite good.
You know smoking is bad for you and it is frankly pissing you off that you cannot stop.
I don't blame you.

So, as a doctor, I am approaching this from a different angle since you are having trouble quitting smoking.
If you want to reduce your risk of kidney failure, lung cancer, and cardiovascular disease then keep reading. Even if you are quitting smoking or have quit years ago, you still need to read this in order to repair some damage done by cigarette smoke.

I am going to present you with some quotes from research. Stay with it.

I am not lecturing you. I am purely backing up my statements and recommendations. Many people think that naturopathic physicians are quacks. Perhaps you do as well. But after you get to know me, perhaps I'll have you thinking, just a little, that naturopathic physicians are not just sandal-wearing granola eaters.
Here we go.

Research shows:
"Acrolein is a very reactive aldehyde present in cigarette smoke....We found that acrolein blocks paraoxonase 1 activity (Paraoxonase-1 (PON1) is an antioxidant enzyme made by the liver. It protects against liver problems.1) and we confirm that serum acrolein levels are higher in chronic renal failure patients.... Acrolein inactivates paraoxonase 1 in HDL (healthy cholesterol), a process that is inhibited by N-acetylcysteine...This could offer new insights to explain low PON-1 activities in smokers and renal failure subjects as well as pointing at thiol-conserving reducing compounds such as N-acetylcysteine, as putative therapeutic palliatives.2"

What this means is acrolein, found in cigarette smoke, blocks a protective antioxidant enzyme made by the liver. This protective enzyme is needed to prevent organ damage as shown by it being low in chronic renal failure patients. N-acetylcysteine prevents the protective antioxidant enzyme from being blocked which allows it to protect good cholesterol. The protection by n-acetylcysteine offers therapeutic potential in smokers and renal failure patients.
If you want to lessen your chances of being hooked up to a dialysis machine, consider taking n-acetylcysteine to reduce acrolein levels found in cigarette smoke.
2. "Lung cancer arises as a focal transformation of chronically injured epithelium with cigarette smoke as one of its well-recognized causes. Apart from oxidants (free radicals), cigarette smoke contains such a multitude of (pre)carcinogens that it is astonishing that not every heavy smoker becomes a victim of malignancy. This points to the interindividual variability in susceptibility to carcinogens; several lines of evidence suggest that metabolic factors are involved in such variability. Metabolism of carcinogens as well as the subsequent (multi)steps of carcinogenesis are affected by host factors and governed by the balance between opposing forces, such as metabolic activation and detoxification....N-Acetylcysteine (NAC), an aminothiol and synthetic precursor of intracellular cysteine and GSH, has been used for many years in Europe as a mucolytic drug. Clinically, it is a safe agent without major side effects and has been considered to have a place in cancer prevention, too. The antimutagenic and anticarcinogenic properties of NAC could be ascribed to multiple protective mechanisms, such as NAC nucleophilicity, antioxidant activity, its ability to act as a precursor of intracellular reduced GSH, modulation of detoxification, and DNA repair processes. On these grounds, NAC has emerged as a most promising cancer chemopreventive agent."3
Cigarette smoke is one of the leading causes of lung cancer and it is a wonder that not all cigarette smokers succumb to it. It is up to genetics of metabolism and detoxification. If your genes allow you to process chemicals efficiently, and your metabolism functions quite well, then you are less likely to get lung cancer. However, your metabolism and detoxification pathways slow as you age or as you are bombarded by chemicals, such as cigarette smoke. You can enhance your detoxification pathways quite easily. N-acetylcysteine is a clinically safe, effective detoxifier that should be used by you, all smokers and everyone who is susceptible to daily exposures to toxins (which is everyone).
3. "There are significant associations between moderate increases in serum homocysteine and three cardiovascular diseases: ischemic heart disease, deep vein thrombosis and pulmonary embolism, stroke... and aortic dissection. An association between the presence of abdominal aortic aneurysm and elevated homocysteine plasma levels has been indicated.4 Smoking is associated with increased plasma homocysteine levels, and both are associated with an increased risk of cardiovascular disease.....passive smoke exposure in never-smokers is positively and independently associated with plasma homocysteine levels in a dose-dependent manner.5 The total concentration of the atherogenic aminothiol acid homocysteine in plasma of healthy volunteers was decreased after oral administration of N-acetylcysteine.6"
Elevated homocysteine levels are a major risk factor for cardiovascular conditions such as heart attack, blood clots, stroke and aortic dissection (when the largest artery in the body rips apart). Smoking significantly increases homocysteine levels and also increases homocysteine levels in those exposed to second-hand cigarette smoke inhalation. N-acetylcysteine lowers homocysteine levels.

Dying of an aortic dissection, stroke, heart attack, or lung cancer is painful, slow and expensive.
Keep trying to quit smoking, but in the meantime, given the research supporting the protective benefit of n-acetylcysteine in cigarette smokers, I highly suggest you take at least 1 capsule of n-acetylcysteine a day; preferably 1 capsule three times a day or take 3 capsules all at once with a bit of food. Drink a glass of water or juice with it.
Your loved ones will appreciate it - and so will you.
Let me know how you are doing. Post what worked for you in quitting smoking.
I will leave you with an article my grandfather discovered. My grandfather, and his lovely wife, passed from lung cancer. She was a smoker. He has been educating me in ways which may help people quit smoking. This research article, Deep Breathing in Dependent Smokers, is quite interesting and the results are positive.

If you are wondering, yes, my grandfather takes 3 capsules of n-acetylcysteine daily since he was exposed to cigarette smoke for over 60 years. He is now nearly 90 years old.
In health,
Dr Ben
P.S. Here are some additional full research articles on n-acetylcysteine and lung cancer prevention.
Keep HealthE. Stay in touch:
Newsletter: http://www.healthegoods.com/newsletter
Facebook: http://www.facebook.com/pages/HealthE-Goods/134971943205455
Twitter: http://twitter.com/healthegoods
Become a HealthE Member! Save 10% Every Day

Resources:

"Paraoxonase-1 is related to inflammation, fibrosis and PPAR delta in experimental liver disease." http://www.biomedcentral.com/1471-230X/9/3
"Acrolein inactivates paraoxonase 1: changes in free acrolein levels after hemodialysis correlate with increases in paraoxonase 1 activity in chronic renal failure patients" http://www.ncbi.nlm.nih.gov/pubmed/17632094?dopt=Citation
"N-acetylcysteine (NAC) and glutathione (GSH): antioxidant and chemopreventive properties, with special reference to lung cancer" http://www.ncbi.nlm.nih.gov/pubmed/8538205?dopt=Citation
"Homocysteinemia is a risk factor for aortic dissection." http://www.ncbi.nlm.nih.gov/pubmed/15780501?dopt=Citation

"Passive smoking in never-smokers is associated with increased plasma homocysteine levels" http://www.ncbi.nlm.nih.gov/pubmed/20558908?dopt=Citation
"Plasma homocysteine and thiol compound fractions after oral administration of N-acetylcysteine." http://www.ncbi.nlm.nih.gov/pubmed/7809573